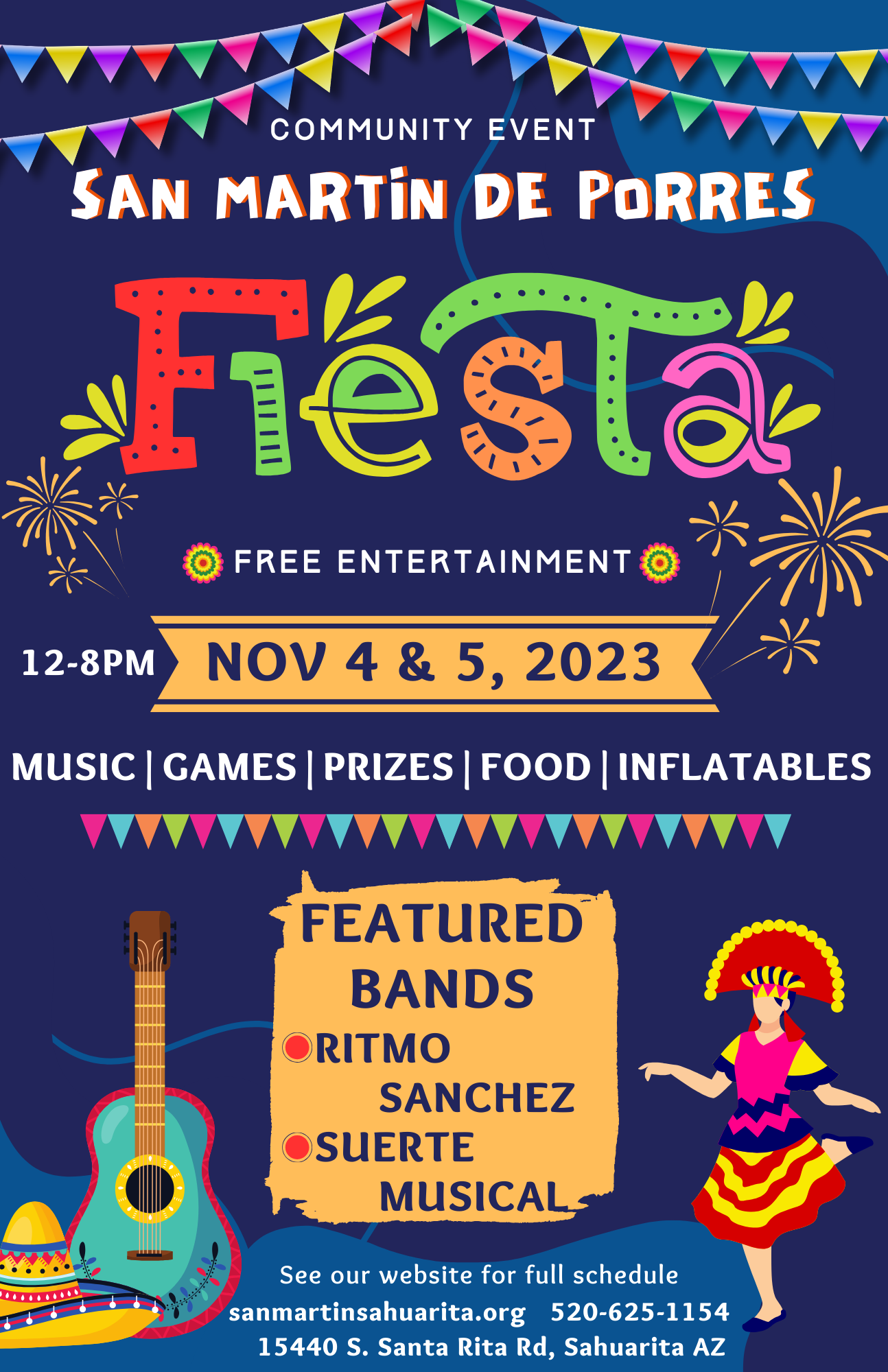 ENTERTAINMENT SCHEDULE
SATURDAY, NOVEMBER 4th
12:00pm DJ Music
1:00pm Balletts Folklorico los Mextucaz
3:00pm (pending)
4:00pm (pending)
5:00pm Vigil Mass inside Church
6:00pm Royalty Coronation Presentation
7:00-9:00pm Ritmo de Sanchez Band
SUNDAY, NOVEMBER 5th
8:00am Holy Mass inside Church
10:00am Holy Mass inside Church with Mariachi music
11:00am Mariachi
12:00pm Holy Mass (Spanish) inside Church
1:00pm Blessing of Motorcycles
1:30pm (pending)
4:00pm (pending)
5:00pm (pending)
6:00-8:00pm Suerte Musical
8:00pm Parish Raffle Drawings
RAFFLE TICKETS NOW AVAILABLE
CLICK HERE TO BUY ONLINE
How can you support our biggest fundraiser for our Parish?

DONATIONS NEEDED. We rely on our parishioners to help raise funds. Drop-off all donations in the front office.
- SELL SELL SELL Raffle Tickets!!
- Cases of soda cans and water bottles.

- Sign up to Volunteer 2-3 hours of your time, call 520-625-1154

- Donate a Cake for the Cake Walks, drop off on either Friday Nov 3rd or Saturday Nov 4th
- Do you have a canopy we can borrow?? Please drop off at the front office week of Oct 29th. Leave your name and number.
- Pick up flyers and posters and help post in your classroom, cafeteria, gym, shop, etc.