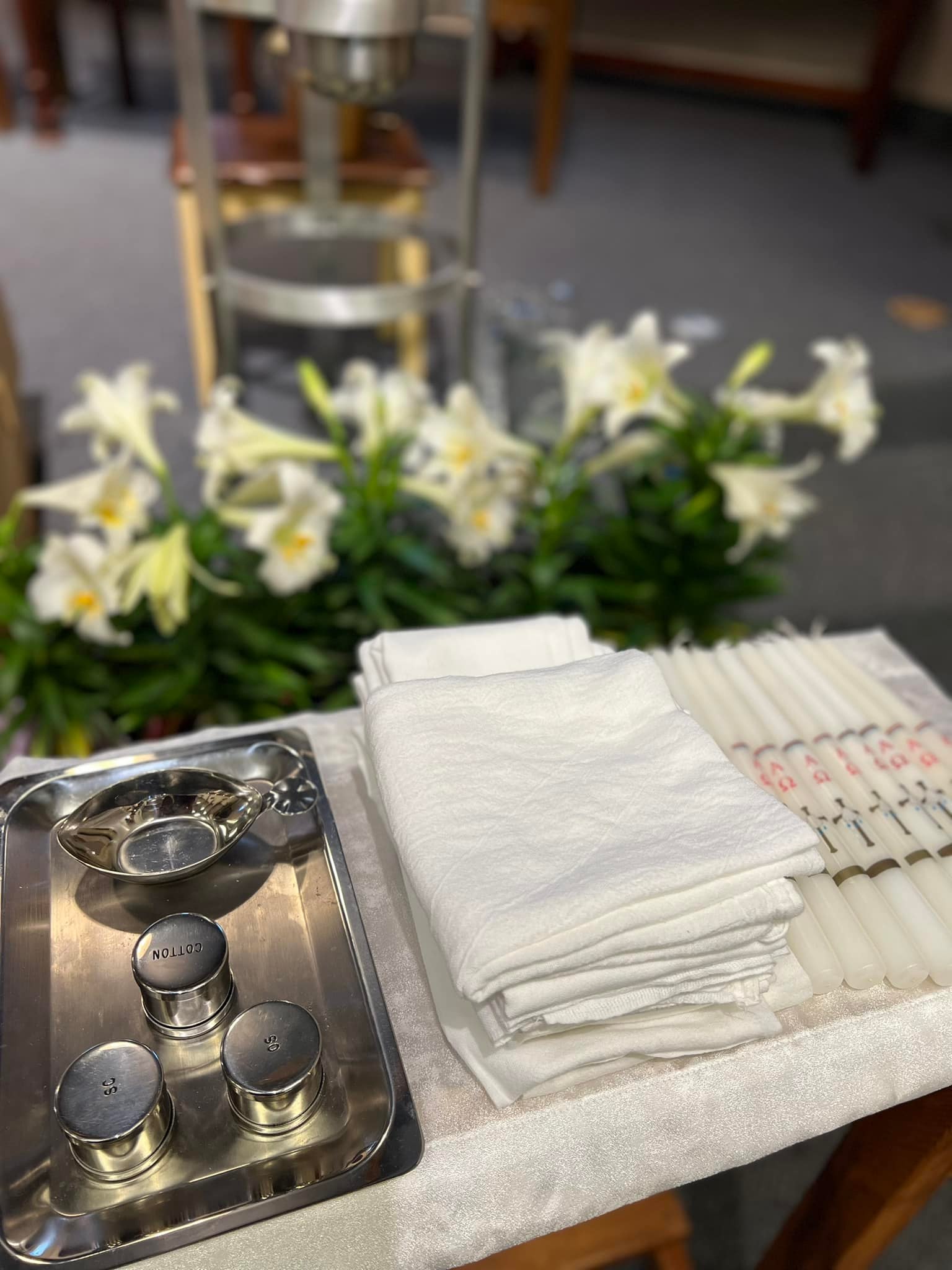 At San Martin de Porres, we believe that Faith Formation occurs within the family, and that parents are the primary spiritual and moral educators of their children. We believe that the first church is the domestic church found in each and every home. Parents are integral in the role they play in their children's faith development, and serve as their primary teachers and role models. When parents introduce their child to the formal Faith Formation process, they are acting on the promises they made at their child's Baptism to raise that child in the Catholic Faith. The parish's responsibility is to support parents in their role as primary teachers and evangelists of their families. Through a combination of lessons in the home, weekly sessions in the church community, and participation in Mass, young people in our parish have the best possible chance to live a full and loving life in the Catholic Faith. Parish-provided Faith Formation instruction includes the following:

First Holy Communion is, without question, a time of great joy. The saints in heaven, who are delighted to intercede for us, are celebrating along with your family.

Jesus comes to us in a unique way in the Eucharist. When He comes, we receive Him into our body and our soul. This is very beautiful, personal, and intimate. Your son or daughter preparing for this sacrament is going to be profoundly united with Jesus in a way that they never have before!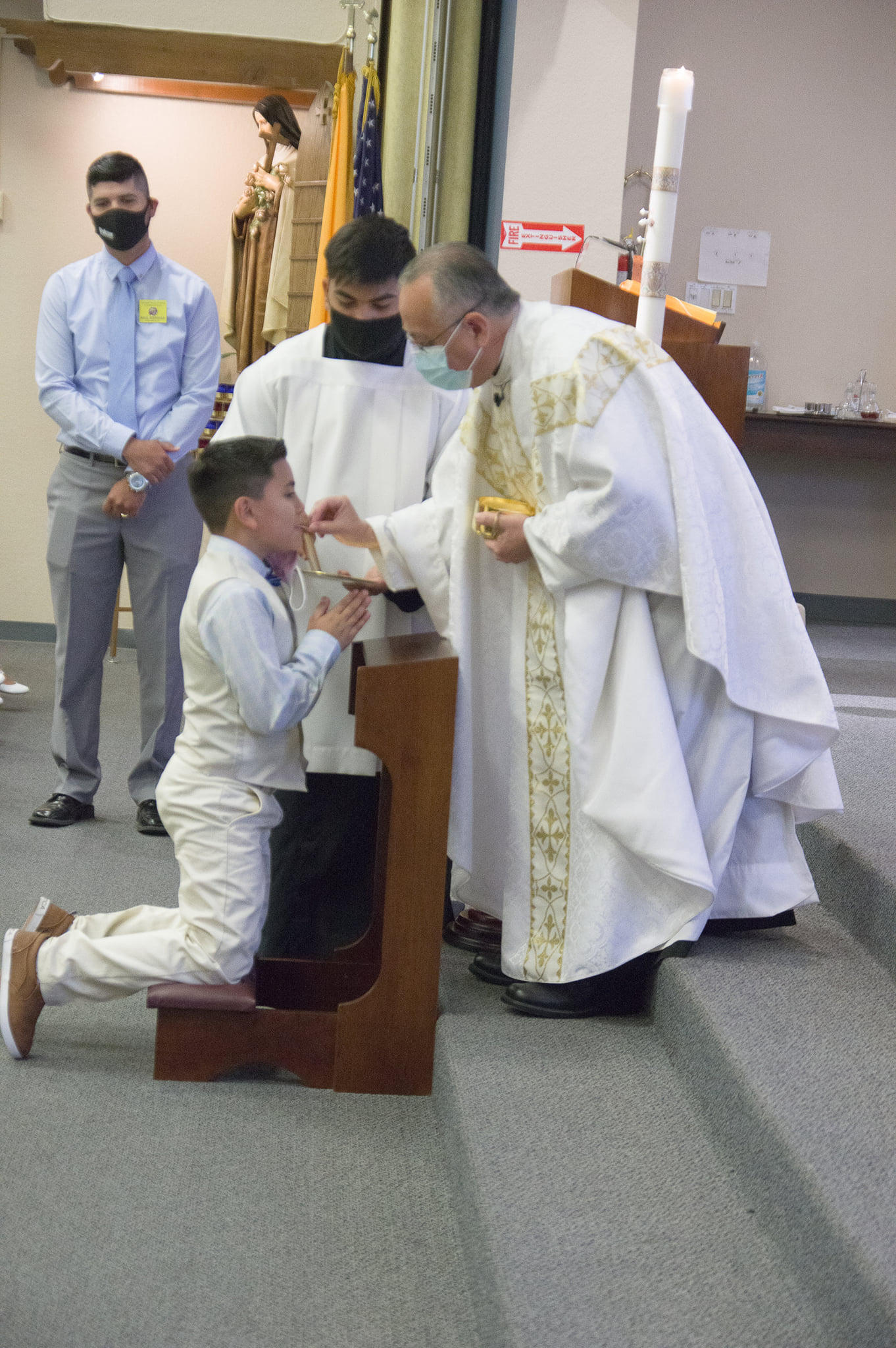 First Communion religious education is ideally a TWO (2) year program beginning in the 1st grade (ages 6-7). The child must be at least 7 yrs of age on the day receiving the Sacrament of First Communion. From that time on begins the obligation of fulfilling the percept of both Penance and Eucharist. Thus, children may receive First Confession during their second year of Religious Education. This is their sacrament of Reconciliation (first penance).



Ages 6-8 are required to complete 2 years.
It is recommended that children be at least 6yrs and they should be comfortable being in a classroom setting for 1.5 hrs.
Ages 9-12 are required to complete at least 1 year and will be in a more intensive program.
Link caption
Confirmation deepens our baptismal life that calls us to be missionary witnesses of Jesus Christ in our families, neighborhoods, society, and the world.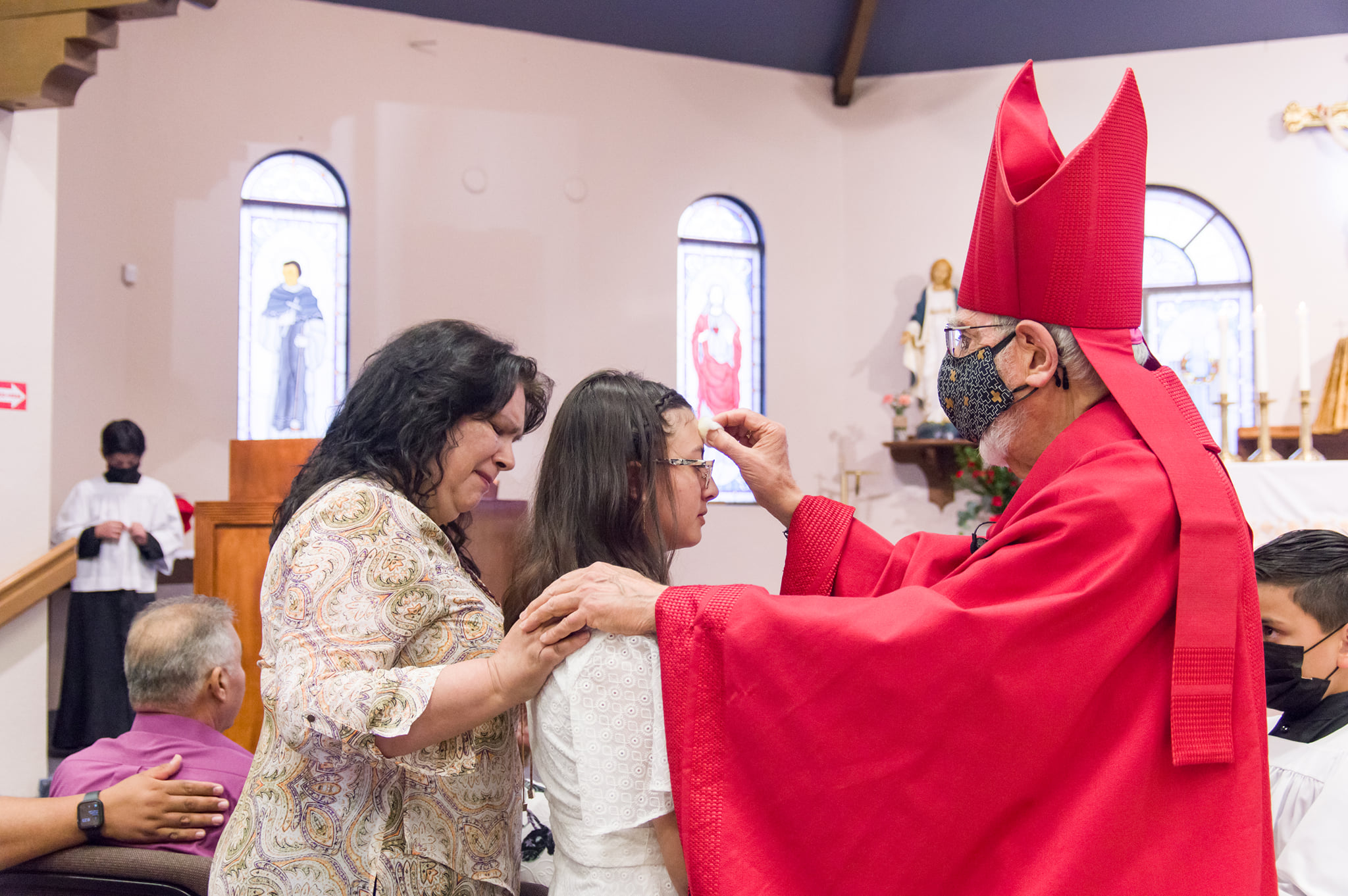 We receive the message of faith in a deeper and more intensive manner with great emphasis given to the person of Jesus Christ, who asked the Father to give the Holy Spirit to the Church for building up the community in loving service.

~from the
United States Catholic Catechism for Adults
Confirmation religious education is a ONE (1) year program for Grades 8-12 (ages 13-17).
The Bishop of Tucson recommends children receive Confirmation during or after the 8th grade (age 13 at least).
If your child is between the ages of 8-11 and has already received their First Holy Communion, they may join the Young Formation class. Although this is not a Sacramental preparation class, it does however provide ongoing faith formation. It is essential that our children continue to grow in their relationship with Jesus and the Church in order that they may live the Gospel fully and build a strong foundation for lifelong discipleship.
Please complete a registration form for Religious Education below if you would like to enroll your son/daughter in the Young Formation class.
Children's Catechumenate is the process for children and adolescents over the age of 7and under 18 who have not yet been baptized.
Becoming Catholic is a life-long commitment. As Christians we are called to continuously grow in faith, hope and love. Religious Education for these children will usually take one year, in some cases it may require more years. The child will be placed in an age appropriate class to complete 1-2 years of Religious Education. His/Her sacraments (baptism, first holy communion and sometimes confirmation) will be administered at the Easter Vigil.

Please complete a registration form for Religious Education below and the office will be in contact with you.
RCIA is a process of study, exploration, faith-sharing, and faith formation with specific liturgical rites for seekers and inquirers. This is for adults over the age of 18 who are non-baptized and desire to be fully initiated into the Roman Catholic Church and/or baptized adult Christians who desire full communion (missing First Communion or Confirmation) in the Roman Catholic Church.

Please CLICK HERE for the RCIA page and registration form for more information.
SUNDAY CLASSES
All Sunday classes will attend 10am Mass.


MONDAY CLASSES
Weekend Mass is mandatory
WEDNESDAY CLASSES
Weekend Mass is mandatory

BLOCK 1
Class instruction is from 8:30am - 10am & Mass attendance from 10-11am.


First Holy Communion Year 1
First Holy Communion Year 2
Young Formation Year 1 (ages 8 & 9)
Confirmation

Class is from 6:00-7:30 pm

Classes are from 5:30-7:00 pm


First Holy Communion Year 1
First Holy Communion Year 2
Young Formation Year 2 (ages 10 & 11)
Confirmation

BLOCK 2
Classes begin with Mass attendance from 10-11am & instruction from 11-12:30pm


First Holy Communion Year 2
Confirmation

RCIA class is from 6:00 - 7:30 pm (adults only)


$55 for one child
$70 for two siblings
$100 for 3+ children in the same household
Space is very limited and are dependent on amount of Volunteer Catechists and room availability.
Please consider a volunteer position as a Catechist or Teacher Aide.
UPCOMING DATES
Meet & Greet from 9-1:30pm: Sunday August 13th

Catechism 2023-24 begins the week of August 20th, 2023
Parents please sign-up for FLOCKNOTE as this is the main platform for communicating Catechism announcements and updates. Sign up below.

What is Circle of Grace?

Circle of Grace is the love and goodness of God that surrounds us and all others. It is the recognition that God is with us always and is there to help us in situations. Through the Circle of Grace program, adults assist children and youth to recognize God's love by understanding that each of us lives and moves within a Circle of Grace. This class will be given the second week of September 2023.

For detailed information on the program Circle of Grace,
CLICK HERE.