Parish Mission Statement
"We are the Catholic community in Sahuarita, Arizona, committed to proclaiming the Gospel of Jesus Christ.
Nurtured by the Eucharist, we spread His love to all through the Word, the Sacraments and acts of charity in our everyday lives."
"Somos la comunidad católica en Sahuarita, Arizona, comprometida a proclamar el Evangelio de Jesucristo.
Alimentados por la Eucaristía, propaga​m​os Su amor a todos por medio de la Palabra, los Sacramentos y los hechos de caridad en nuestra vida diaria."
About our Patron Saint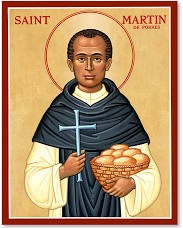 St. Martin de Porres was born in Lima, Peru on December 9, 1579.
Martin was the illegitimate son to a Spanish gentlemen and a freed slave from Panama,
of African or possibly Native American descent.
Faculty
Rev. Martin Martinez
Pastor
pastor@sanmartinsahuarita.org
Cindy Gomez-Parra
Office Manager
admin@sanmartinsahuarita.org
Irina Bostick
Coordinator of Religious Education
faith@sanmartinsahuarita.org
Cecilia Maynez
Administrative Clerk
assistant@sanmartinsahuarita.org
Isela Celaya
Office Assistant
office@sanmartinsahuarita.org
Matt Gomez
Youth Minister
youthministry@sanmartinsahuarita.org
Albert Le Page
Facilities Manager