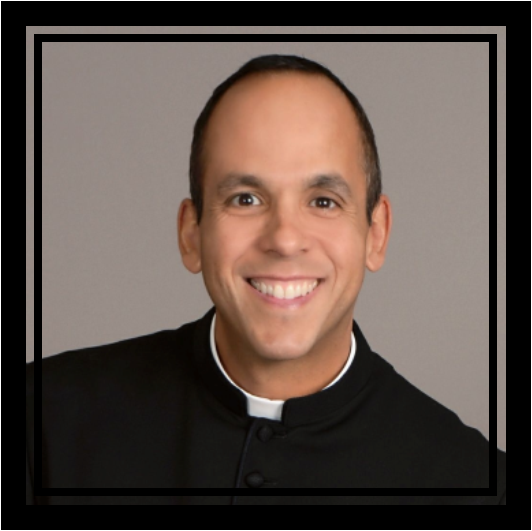 Fr. Juan Carlos Aguirre-Borchardt
(Second Pastor of San Martin de Porres Parish)
Email:
padre@elpadrejc.org
Visit his Official Facebook Page
Visit his Web Page:
www.elpadrejc.org
Father Juan Carlos Aguirre-Borchardt was born on August 8, 1970, in Hermosillo, Sonora Mexico. He is the youngest son of Edmundo Adolfo Aguirre and Ana Delia Borchardt-Aguirre. He has two brothers, Edmundo and Manuel Francisco, and one sister, Ma. Del Pilar (married to Ernesto Porchas). His older brother Luis Fernando died at the age of 17, when Fr. Aguirre was 9 years old. His older sister Annie Aguirre Green died on September 1, 2010.
He has four nieces (Paloma María, Paola Alondra, Ana Belen Porchas and Ana Cristina Greene). He has one nephew (Ernesto Marco). For more information on his family, you may visit
www.clanaguirre.com.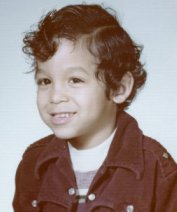 Fr. Juan Carlos was baptized on October 4, 1970 and later confirmed by Archbishop Carlos Quintero-Arce on August 2, 1975. His spiritual life was highly influenced by his Catholic upbringing. His brother, Luis Fernando, taught him how to pray the rosary and attend mass. He received his elementary education at
Colegio Regis, with the Christian Brothers of LeSalle, in Hermosillo. He became a Boy Scout in 2nd grade and received his First Holy Communion on October 7, 1981.
When he was young he worked in the family trucking business as a boss boy, assistant mechanic and later as a manager until he was 19 years old. He attended
ITESM for preparatory education. Following his desire to be a business man, he moved to Tucson to attend college. He majored in Marketing. At the time, however, he joined the group Encuentros de Promocion Juvenil. It was during his time in the youth group that he searched for spiritual meaning in his life.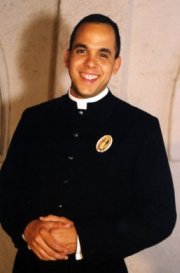 On August 25, 1992, Fr. Aguirre entered
The Pontifical College Josephinum in Columbus Ohio as a seminarian for the
Diocese of Tucson. There he completed a Bachelor of Arts in Philosophy in 1995. He went on to complete a Master of Divinity and a Master of Arts in Systematic Theology, with a specialization in Moral Theology and Ethics. He graduated Suma Cum Laude.
Fr. Aguirre was ordained a deacon on April 25, 1998. By the grace of God, he was ordained a priest by the laying of hands of Bishop Manuel D. Moreno, in St. Augustine's Cathedral, Tucson, on June 5, 1999, consecrating his priesthood under the patronage of Our Lady of Perpetual Help. He celebrated his First Mass of Thanksgiving on June 6, 1999 in the Parish of Our Lady of Fatima on the Solemnity of the Body and Blood of Christ, in Hermosillo Sonora, Mexico.
His first assignment as Parochial Vicar was in St. Anthony of Padua, Casa Grande. Then in July 2000, he was transferred to Sacred Heart of Jesus Parish in Nogales, Arizona, were he remained a parochial vicar until June 2002. He was then transferred to St. John the Evangelist in Tucson.
On September 26, 2005 he became the Administrator of St. Helen of the Cross Parish in Eloy Arizona. On August 30, 2006 he was appointed as the 8th Pastor of this parish and was officially installed on October 13, 2006. He served thr community of Eloy until June 2013.
Bishop Gerald F. Kicanas of Tucson appointed Fr. Juan Carlos Aguirre as the second pastor of San Martin de Porres parish in Sahuarita Arizona effective July 1, 2013. Fr. Aguirre continues to seve the community of Sahuarita. The parish is currently addressing the population growth in the area and seeks to find solutions that will sustain the evangelical and pastoral challenges that growth brings to a parish.
Fr. Aguirre values the liturgy and believes it is important to pass to the next generation the values and traditions of our faith. As a migrant from Mexico, Fr. Aguirre enjoys working with diverse communities and strives to bringing people together. He helps with the Diocese Without Borders Initiative to minister to those in need, especially the migrant and marginalized. Father Aguirre became a Citizen of the United States on March 2, 2012.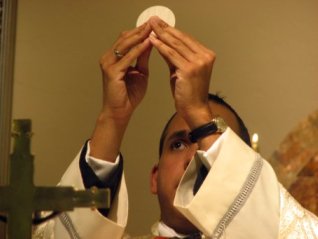 He enjoys writing and reading. In 2000, as a response to the call for the New Evangelization, Fr. Aguirre, wrote a course of basic theology for the laity called, "Truth Gives Freedom." Since then he has taught over 300 parishioners in various parishes the basic doctrines of the Church in a format that stimulates discussion and participation of the students. He sees teaching as a necessary tool to promote leadership skills.
In his personal life, Fr. Aguirre values family and friends. In his leisure time, Fr. Aguirre enjoys exercising in the gym, biking, swimming, listening to music and viewing movies. His favorite food is Italian. He enjoys travel and pilgrimages. His beagle's name is Toro (Bull).
Fr. Aguirre is a member the
Global Fellows Program with
Catholic Relief Services. In 1997 he visited Zimbabwe and South Africa to gain first hand experience of this Ministry of Charity. In February 2012, Fr. Aguirre visited Burkina Faso, Africa with a delegation of Global Fellows from CRS on an immersion experience that renewed his commitment to promote Global Solidarity with communities in the developing world. Part of his mission with CRS is to raise awareness of the possibilities available to practice the virtue of charity through the U.S. Bishops efforts to end global poverty.
His personal favorite biblical quote is "Father, into your hands I commend my spirit." (Luke 24:45). He believes in "Restoring all things in Christ" (Eph 1:10) and that "Christ may be all and in all" (Col 3:11) and that God's grace is constantly at work in the community today.