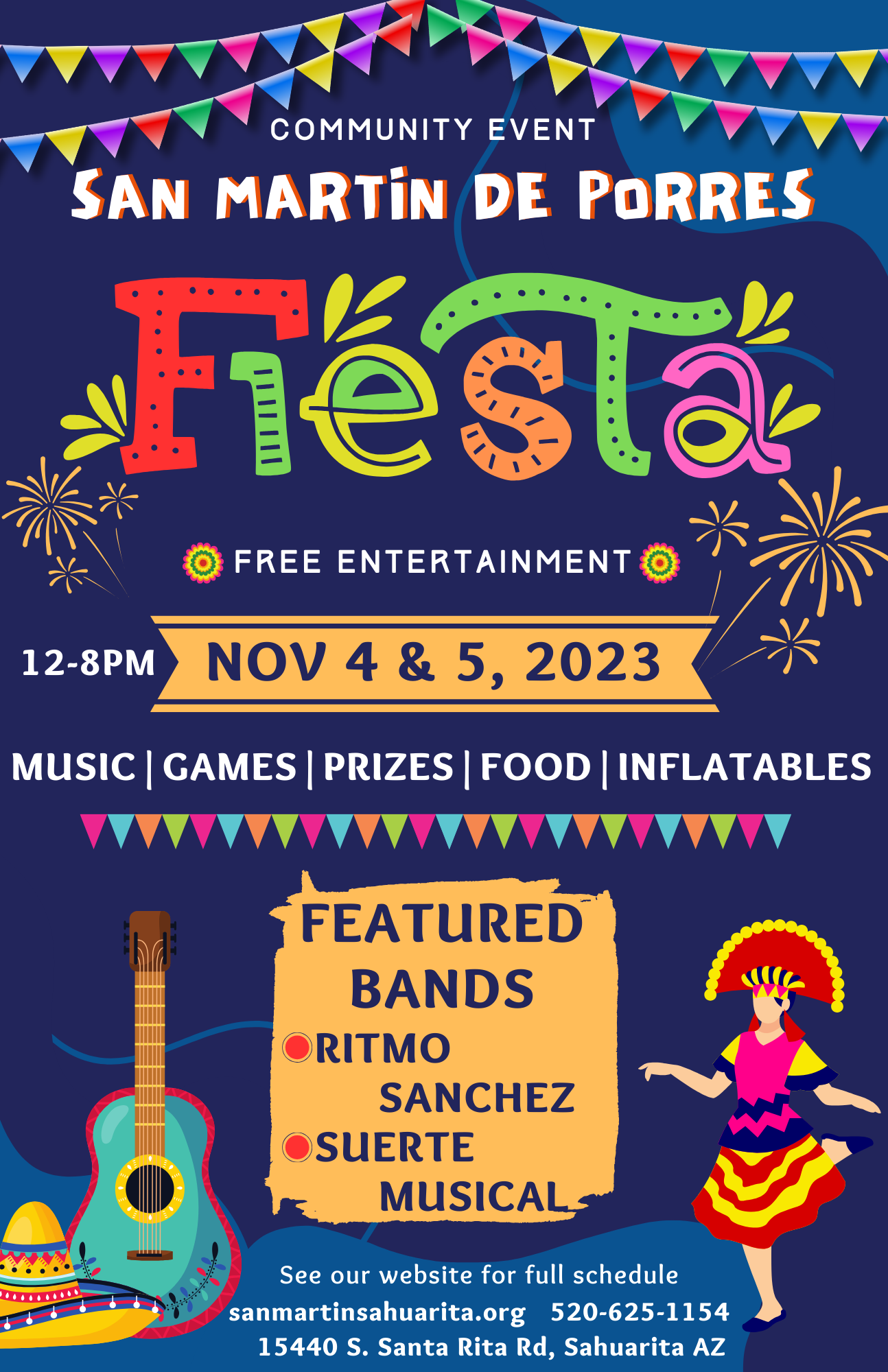 12:00 pm OPEN

1:00 pm Ballet Folklorico los Mextucaz
2:00 pm Lucy Coronado, soloist
3:00 pm Escuelita Musical
4:00 pm Genaro Moreno, soloist
5:00 pm Vigil Mass inside main Church
6:00 pm Fiesta King/Queen Coronation
7-9 pm Ritmo de Sanchez, closing band
8:00 am Holy Mass inside main Church

10:00 am Holy Mass inside main Church
(Mass with Mariachi music)
11:00 am Mariachi Inovacion in the patio
12:00 pm Holy Mass inside main Church (Spanish)
1:00 pm Blessing of Bikers and Motorcycles
1:30 pm Alejandro de Miguel, soloist
2:30 pm Phil McGill, Bagpiper
3:30 pm Escuelita Musical
4:30 pm Lucy Coronado, soloist
6-8 pm Suerte Musical, closing band
8:00 pm Grand Prizes, Raffle Drawings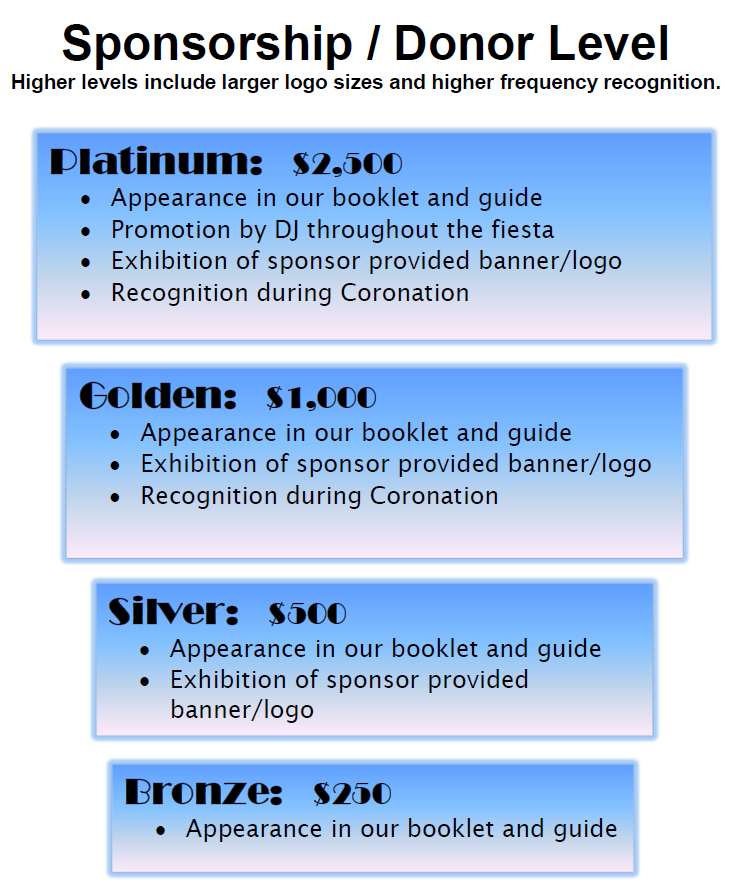 San Martín de Porres Fiesta is our parish's major fundraiser and brings the parish and the

surrounding communities together as a family to enjoy live entertainment, bands, singers, DJ
music, food, games and activities that can be enjoyed by the whole family. The success of the
fiesta highly depends on attendees, as well as sponsors and donors.
San Martín de Porres Fiesta has opportunities for all levels of participation; the larger the
donation, the more significant and varied the exposure. Please see the list to the left for details for a
monetary donation.
San Martín de Porres Catholic Parish invites individuals, businesses, and organizations to become
involved in our Fiesta by sponsoring activities and food booths.
We pray you consider sponsoring our Fiesta this year. Your contribution serves as a "seed" on
which we can build our celebration and thus turn our fund raising efforts into a success.
We also accept items, gift certificates, or product that we could either use for our fiesta or turn
into prizes during our day raffle and other game activities.
Besides including you or your company in our publications, San Martín de Porres Catholic Parish
in Sahuarita is an Arizona non-profit organization (Tax ID 86-0963558). All monetary and nonmonetary
contributions are tax deductible as provided by the law. You may request a receipt for
your generous giving. If you have any questions, please call the parish office at 520-625-1154.
We are looking forward to this communal celebration. Your generous assistance makes a great difference, and it will help promote unity in our community as a whole. If there is any way I can
be of help, please feel free to contact us at admin@sanmartinsahuarita.org.